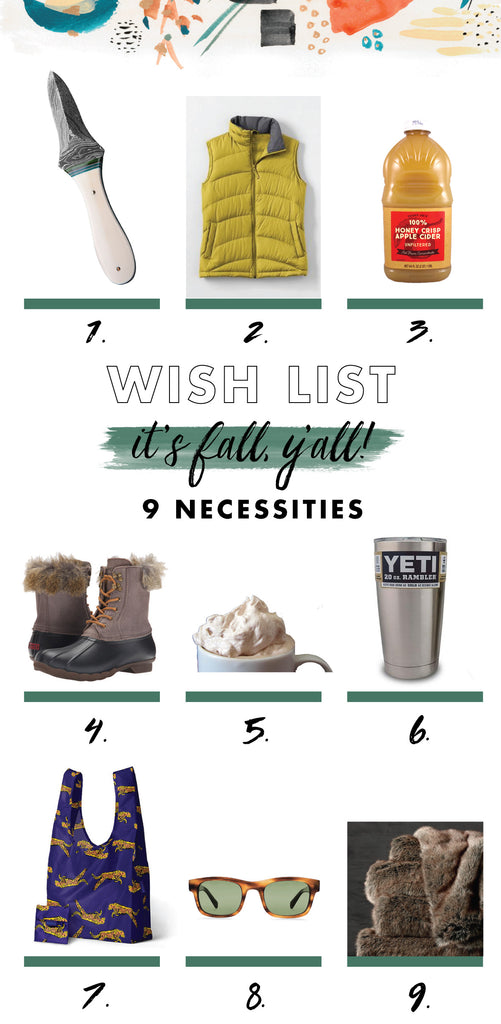 Tornadoes, rain, more rain, more rain, more rain, and more rain. Floods. More rain, and more rain. Ugh. I've had my fair share of Mother Nature. Summer's over. I get it. Can we move on to oyster roast season now?!? We were quite lucky: although our John's Island, SC home is on a pond and across the street from the salt marsh, no water got in our house. My Charleston office was also (mostly) spared. Water got into the building, but the floors are concrete and there was no major damage. Yay! I really appreciate all the messages, tweets, texts, and calls to check in on me and my family. Fall in the Lowcountry means the temperature drops below "hot as Hades," the tourists go home (bye, Felicia), and the locals come outside to celebrate with oyster roasts. 'Tis the season for gathering with neighbors! Here are the things that are topping my wish list this season | 1.
gorgeous oyster knife
(because B.Y.O.K.) | 2.
mustard yellow puffer vest
(aka a "party vest" in my neighborhood) | 3.
honey crisp apple cider
(add a little bourbon, a sliver of apple and some sage for the perfect oyster roast cocktail) | 4.
chic rain boots
(I have a feeling this year's oyster roasts are going to be particularly muddy) | 5.
cyd's cinnamon whipped cream
(put it in your coffee: o.m.g.) | 6.
the yeti rambler
(for the morning commute coffee and/or the aprés oyster roast hot toddy) | 7.
cheetah baggu tote
(for shopping King Street now that the crowds have gone) | 8.
sunnies
(now that it's below 100 degrees I can actually spend some time outdoors) | 9.
ultra cozy faux fur throw
(for family snuggles)