Fall 2020 Winter 2021 Pantone Colors Trends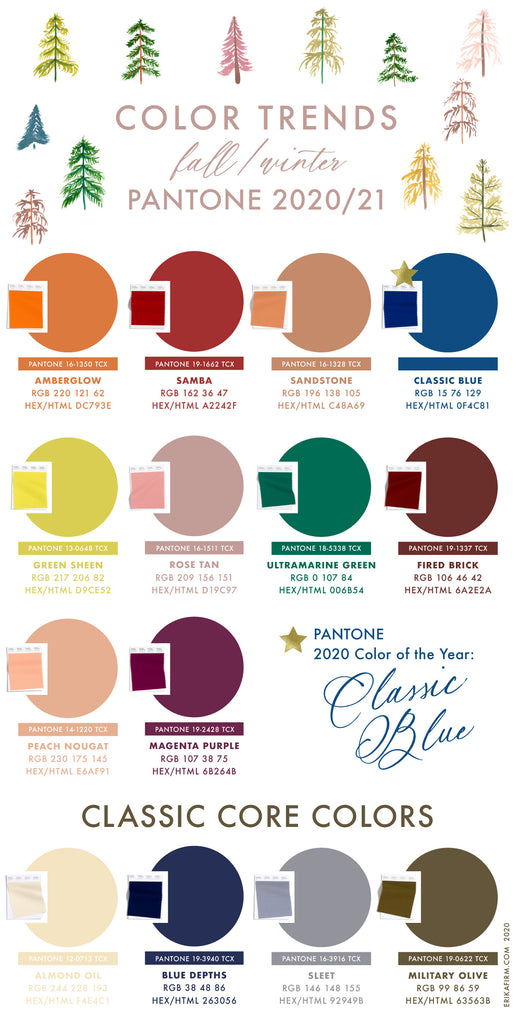 The Fall 2020 / Winter 2021 Colors that Pantone picked for its Fall 2020 / Winter 2021 fashion trends report are gorgeous. Not much of a surprise to y'all who know me at all: Ultramarine Green, Green Sheen and Military Olive (hello, any shade of green!!!) are my favorites. I'm also loving Peach Nougat, Sandstone, and Rose Tan. The palette is full of warm, richly pigmented earthy colors. Although this is the Fall/Winter palette, I think most of these colors work year round.
When you see the entire palette all together it seems a little … much. But take nearly any two or three and they play nicely together. For holiday 2021 color palette I'm feeling Samba, Rose Tan, and Ultramarine Green together … would look great with a pop of gold foil.
The current trend for weddings seems to be slowly pulling away from blush and peach, into richer reds like samba and fired brick. But I'm predicting 2021 and 2022 weddings will see a turn toward blue, including Pantone's 2020 color of the year: Classic Blue, paired with darker Blue Depths, Sleet, Military Olive, and Almond Oil.
Want more color and trend spotting? + Read my take on Pantone's Spring/Summer 2020 collection here + Check out my Pinterest board full of Color Inspiration + Check out my Pinterest board full of the latest trends.