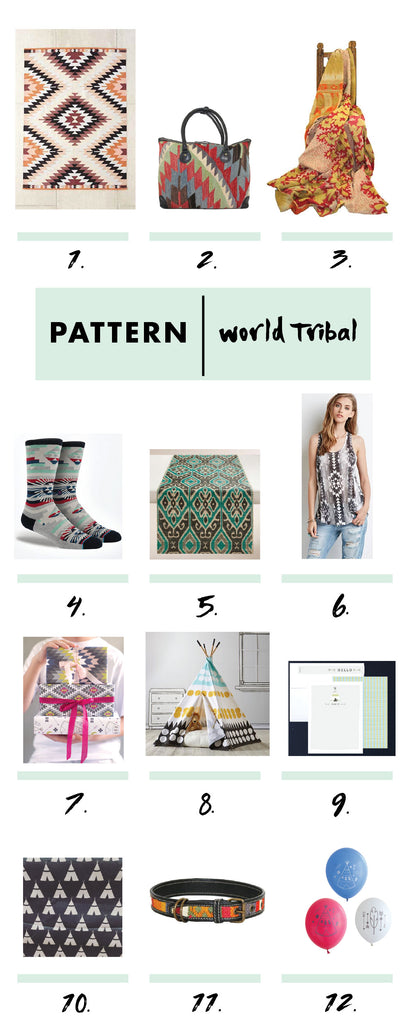 Tribal patterns are classics. Ikat, Kilim & Kantha are just a few of my favorites. Though they've been around for centuries, lately I've noticed modern takes on tribal patterns popping up on everything from home décor to dog collars. Aztec pattern inspired socks and teepee kids stationery?!? Yes, please.
Inspired by Revel & Co. founder Melissa Bilyeu's world travels (and her covetable collection of Kilim rugs), we designed the Tribal Collection of gift wrap and party goodies for the launch collection of her line. It will be shipping to stores worldwide soon! Meanwhile you can pick up some fun arrow balloons and feather straws for your next party in the online shop.
SOURCES
| 1.
Modern Kilim Rug
| 2.
Kilim Boho Bag
| 3.
Vintage Kantha Quilt
| 4.
Tribal Pattern Socks
| 5.
Turquoise Ikat Table Runner
| 6.
Tribal Pattern Tank Top
| 7.
Kilim Gift Wrap
and
TeePee Gift Wrap
| 8.
Kids Play TeePee
| 9.
Kids Wigwam Stationery
| 10.
Navy TeePee Pattern Fabric
| 11.
Kilim Dog Collar
| 13.
Feather, Arrow and TeePee Balloons
|
Revel & Co. Tribal Collection
of gift wrap, cocktail napkins, paper straws, confetti and balloons